Skin has always been in and the older I'm getting, the more I realize that I need to really start giving it TLC every single day. This year, I've been trying a good amount of skincare products. Some I was thrilled with and others… hmm. Let's just say, I would like my money back. But, I won't dwell on the negative. Keep on reading to see my absolute favorite skincare products!
Neutrogena Makeup Remover Cleansing Towelettes /Garnier SkinActive Micellar Water 
The very first step in your skin care routine is to remove all your makeup (if you wear any). I've been using the Neutrogena makeup wipes since maybe 2013 and those are the ONLY wipes I've used since. It removes it all so easily and doesn't burn my skin or leaves a weird odor. It usually takes me 2-3 wipes to clear all my makeup, depending on how much makeup I'm wearing that day. Now, don't be fooled. Even though your makeup APPEARS to be wiped away, it's not. While the wipes takes away whats on the surface of your skin, the Garnier SkinActive Micellar water really gets into your pores and removes dirt, oil AND makeup. You can use micellar water as your makeup remover as well. If you choose to do this, I recommend using a microfiber wash cloth. I personally use small cotton pads to remove dirt from underneath the surface of my skin after I wash my face. Speaking of face washes…
CeraVe Hydrating Cleanser 
I picked up the CeraVe Hydrating Cleanser from Walgreens one day off a whim. I was in between facial cleansers at the time and I heard a lot of great things about this line and their cleansers. So I just picked it up and hoped for the best. Now, for someone with oily skin, hydrating my skin is usually the last thing I want to do. WRONG! Sometimes your oily skin is a cry for hydration. After using this cleanser, I immediately started noticing that my skin was producing less oil. Don't get me wrong, ya girl still gets oily! But it's totally under control now thanks to this hydrating cleanser.
Alright so we've removed our makeup, cleansed our face and now it's time for my favorite part – skin treatments!
Baggage Claim Gold Eye Masks by Wander Beauty
My dark circles are stubborn as hell. A lot of people have been telling me it can be one of three things. Either I don't drink enough water, don't get enough sleep or can be hereditary. It is for sure hereditary in my opinion. All I drink is water and no matter how much sleep I get, my dark circles stick to me like glue. So for my under eyes, I've been loving the Wander Beauty Baggage Claim Gold Eye Masks. These are the first eye treatment product where I actually see a difference. I love using these right after a long night or even right before bed. My favorite way to use these masks is to leave them in the fridge for a little while first. Usually, I'll shower, eat dinner or tidy up while waiting for them to get cold enough then apply them under my eyes for 15-20 mins. Once they're off, I pat the serum into my skin and let it soak up before applying my eye cream.
Neutrogena Hydrogel Masks
Okay. Let me put it this way. If I had to choose one skin care product to use for the rest of my life. It would be these masks. I know that is a VERY bold statement to make but I'm being so honest. There are three kinds of Neutrogena Masks. I love the Hydro Boost hydrating mask for my dry days, the Radiance Boost brightening masks is best to prep your skin for makeup before an event and the Deep Clean purifying mask when your skin needs an extra *umph*. I like to keep these masks in rotation cause sometimes I need a little of this, a little of that. The best part is that you can find them at Target, CVS, Walgreens, Wal-Mart… pretty much anywhere you can get drug store priced skin care. And these face masks go great with…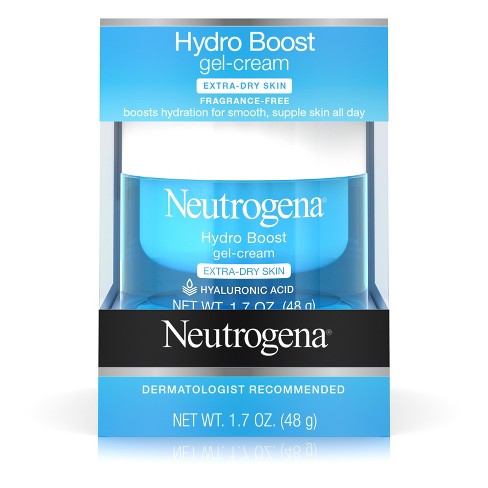 Neutrogena Hydro Boost Gel-Cream with Hyaluronic Acid
To date, this is my favorite moisturizer. I was skeptical to try it at first cause it said "gel-cream" and thought for sure it wouldn't work well with my oily skin. Boy, was I wrong. I tried this moisturizer during the warmer months here in NY and it kept my skin hydrated through the heat and now that winter is approaching, I'm confident it will do the same. The combination of the mask and this gel-cream always leave me with glowy skin and to be honest, that's how we all want to look when we're bare-faced.
Let me know what are your favorite skin care products below!